About the Show
---
In the summer of 2021, the Grand Teton Music Festival kicked off its 60th season under the leadership of Music Director Sir Donald Runnicles. Highlights from two performances in August were captured for an hour-long program that features guest artists Julia Bullock, Yefim Bronfman, and Leila Josefowicz. The program includes music by Jessie Montgomery, Beethoven, Strauss, Stravinsky and Tchaikovsky. Welcome Home: Grand Teton Music Festival 60th Season Highlights can be watched live on WyomingPBS Friday, October 8th at 8pm and October 10 at 4pm. It's also available to stream anytime from the PBS app. Click on the link below for instructions.
About the 60th Season Festival
Under the leadership of Music Director Sir Donald Runnicles, the Festival's 60th season kicked off with outdoor concerts and then returned to reduced capacity, indoor performances for six weeks at Walk Festival Hall. Concert programs featured guest artists cellist Sheku Kanneh-Mason, pianist Yefim Bronfman and violinist Leila Josefowicz. Other highlights included a world premiere by composer Melody Eötvös, a Jessie Montgomery co-commission with soprano Julia Bullock, and a concert of opera highlights with world-renowned soloists. Stéphane Denève and Miguel Harth-Bedoya returned as guest conductors and the new Gateway Series featured Time For Three, Third Coast Percussion and Broadway Through the Ages. The world-class talents of the Festival Orchestra musicians were highlighted in a weekly chamber music series on Wednesdays.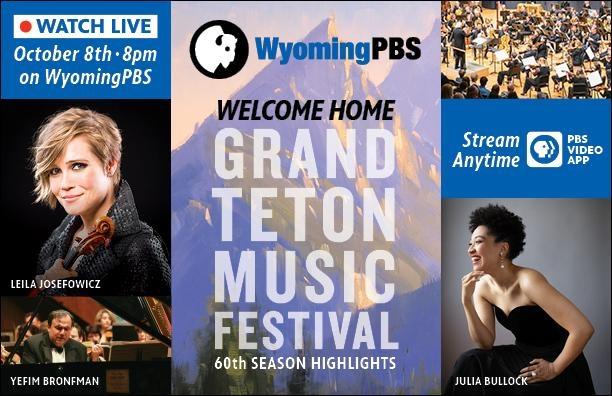 One of Musical America's 2021 "Artists of the year," American classical singer Julia Bullock is "a Musician who delights in making her own rules" (The New Yorker). Combining versatile artistry with a probing intellect and commanding stage presence, she has, in her early 30s, already headlined productions and concerts at preeminent arts institutions around the world.
Internationally recognized as one of today's most acclaimed and admired pianists, Yefim Bronfman stands among a handful of artists regularly sought by festivals, orchestras, conductors, and recital series. His commanding technique, power and exceptional lyrical gifts are consistently acknowledged by the press and audiences alike.
Leila Josefowica's passionate advocacy of contemporary music for the violin is reflected in her diverse programs and enthusiasm for performing new works. In recognition of her outstanding achievement and excellence in music, she won the 2018 Avery Fisher Prize and was awarded a prestigious MacArthur Fellowship in 2008, joining prominent scientists, writers, and musicians who have made unique contributions to contemporary life.
Donald Runnicles is Music Director of the Grand Teton Music Festival, General Music Director of the Deutsche Oper Berlin (DOB), and Principal Guest Conductor of the Atlanta Symphony Orchestra. In 2019 Maestro Runnicles also took up post as the Sydney Symphony Orchestra's first ever Principal Guest Conductor. Additionally, he holds the title of Conductor Emeritus of the BBC Scottish Symphony Orchestra, having served as Chief Conductor from 2009–16.
Highlights of the 2019–20 season include return engagements with the Philadelphia Orchestra and the Toronto Symphony; a premiere of Das Rheingold with the Deutsche Oper as part of an ambitious new Ring Cycle stretching into 2021; and a new production of A Midsummer Night's Dream which continues Maestro Runnicles' Britten cycle at the DOB. He also brings the DOB company to the Edinburgh Festival this summer in a performance of Manon Lescaut.
Maestro Runnicles enjoys close and enduring relationships with many of the most significant opera companies and symphony orchestras. His previous posts include Music Director of the San Francisco Opera (1992–2008), Principal Conductor of the Orchestra of St. Luke's (2001–07), and General Music Director of the Theater Freiburg and Orchestra (1989–93).